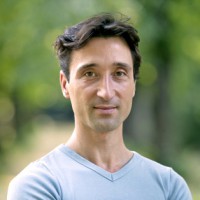 The Spanish choreographer Francisco Sanchez Martinez began his professional studies at the Zurich Ballettakademie. Having been given scholarship aid from the Migros-Stiftung and the city of Zurich as a highly talented young dancer he finished his studies at the renowned Munich Hochschule für Musik (Heinz Bosl-Stiftung) as "Diploma-dancer".
Locations for his successful and yearlong dancing career took him to the Deutsche Oper am Rhein (Düsseldorf), the State Theater Karlsruhe and the State Theater Nuremberg, then the Deutsche Oper Berlin, the Cape Town City Ballet in South Africa as well as the largest stage in Europe, the Friedrichstadtpalast in Berlin. During this period he worked with internationally known choreographers such as Uwe Scholz, Hans van Manen, Heinz Spörli, Nick Navarro and Germinal Casado.
He received his degree as Diploma-Choreographer at the Hochschule für Schauspielkunst (University for theater arts) Ernst Busch in Berlin with distinction. At the same time he worked as freelance choreographer nationally and internationally. Aside from dance theater, he began to focus more and more on choreography in musical theater. He was then engaged at the Kammeroper Hamburg, the Meiningen, Eisenach, Magdeburg and Heidelberg theaters. His first television engagement was the trilogy "Krupp- a German family" in 2009.
Working with children and adolescents has become an important part of his choreographic activity, so he composed a contemporary and multi-faceted dance production: "Human Fracture" for the students of the Ballettförderzentrum in Nuremberg.
From 2010 until 2013 Mr. Sanchez Martinez was the ballet director and resident choreographer of the Lüneburg Theater Ballet ensemble. For them he created world premieres as well as large orchestra and contemporary dance evenings, musicals,
operettas and children's theater pieces like The Emperor's New Clothing, Bachgeflüster, the Sorcerer's Apprentice, Moving Times, betweendreams@dialogue.de, the Frog King, On the Rope, and Look at Me.
In 2012 he collaborated with the star architect Daniel Libeskind and the Leuphana University Lüneburg where he created a contemporary piece based on architectural structures and Bach's Die Goldberg-Variationen.
Our society's demographic evolution inspired him to found the dance theater group "In Time!" for amateur dancers aged 45 and over in the TanzHausBerlinMitte. The joint developed choreographies will be soon presented to the general public in as an open "work in progress"- performance.
As guest instructor for classical and contemporary dance Francisco Sanchez Martinez is teaching at several institutions for children and adolescents of all ages.
Since November 2013 he is again working as an international freelance choreographer in theaters and for free independent productions. He recently created the latest ballet production in the Nordharz Städtebundtheater a three-part Stravinsky ballet evening with great success.
At the moment Francisco S.M. is working with the entire Finkenkrugschule Berlin, a school for emotionally and physically handicapped students, together with their teachers and guardians, the implementation of musical pieces for the award-winning Unter den Linden chamber orchestra school project "Cool School Symphony". In May 2015 this extraordinary project will be presented at the Berliner Philharmonie as a complete production


Download CV